Cooler and Freezer
Summary Cabinet Features: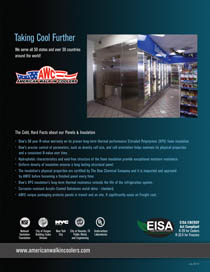 PPS Performance Panel System
4″ thick insulation;
"Exceeds" EISA energy standards
8′ Standard height
Floorless construction; style "H" flat bottom
Note: Low temp compartments include insulated reinforced floor
Silver metal finish in/out no extra charge
Walk-ins equipped with 35½" W x 78″ H UL approved entrance door
Includes: Interior light prewired to exterior switch, exterior digital thermometer, self closing hinges, door closure, inside safety release and magnetic seal gasket. Low temp models include heated door frame and pressure relief port
Summary of Medium & Low Temp Glass Display Doors:
Anthony® International; Mo#401 Standard
(Mo#101 and other door sizes available)
Standard door size: 30¼" Wide x 75″ High
(2) Bright fluorescent lights per door
(5) Standard epoxy coated shelve per door
Door and frame condensate heaters
Note: Optional glass heat; standard on low temp models
Choice of frame finish: Gold, Silver or Black
Summary of Medium & Low Temp Refrigeration System(s):
Heavy duty Heatcraft™ outdoor condensing unit(s) are matched with low silhouette evaporator coil(s). Low temp evaps include electric defrost
Refrigeration controls are included
Tubing and refrigerant by others
All components are UL Approved
Proper sizing of evap coil(s) minimizes ice build-up
Outdoor Units adjust to seasonal changes in temp
All products engineered for long term dependability
Excellent warranties
National Approvals:
UL Electrical Approved
UL Sanitation (NSF7 Standard) Approved
Smoke & Flame Spread listing per ASTM84 testing
Options (Call for Pricing)
Cabinet Options:
Standard 8′ high, 10′ & 12′ high available (taller heights available with urethane models)
Custom heights
Modifications for: wood framed openings to accept glass display doors, angles, offsets, interior posts, removable panel to access mechanical
Insulated reinforced floor
Non-skid strips for floor
Floor ramps; exterior & interior
Metal finishes:
Standard – Silver embossed galvanized
Decorative: (10) painted colors, (2) woodgrains and stainless steel
Diamond plate for walls, doors and floors
Outdoor membrane roof cap with perimeter hold-down trim
Door rain guard, weatherproof light switch and locking handle
Security locking bar (padlock by others)
Trim; wall trim strips, enclosure panels
Ceiling support system (allows multiple ceiling panels to be suspended to overhead building rafters)
Solid Walk-in Door:
Standard door size: 35½" W x 78″ H
Additional sizes available; please call
Available Options:
Door closure (up to 42″ wide), extra hinges, diamond kick plate, vision window, or in-swing hinging
Energy Saving Doors:
Hanging strip curtains
High impact, double acting doors
Glass Display Doors-Medium & Low Temp Use:
Standard Mo#401 – 30¼" W x 75″ H: specify hinging, trimline handle & (5) 24″ deep shelves
Mo#101 – 30¼" W x 75″ H: reversible hinging, choice of slimline or full length handle & (5) 27″ deep shelves
Note all Models: Choice of frame finish: Gold, Silver or Black frame. Black finish
Available Options:
Additional shelves
Electronic lighting system (ELS)-available on Mo#101
Glass heat for high humidity application; std on low temp models
Door locks
Glass Entrance Door-Medium Temp Only:
Mo#403 – Specify 30″ or 36″ Wide x 81″ High; specify hinging, trimline handle
Mo#103 – Specify 30″ or 36″ Wide x 81″ High; reversible hinging, slimline or full length handle
Note: Choice of frame finish: Gold, Silver or Black frame. (Lights optional, no shelving)
Available Options:
Fluorescent lights attached to each side of frame
Electronic lighting system (ELS)-available on Mo#101
Roll-A-Way beverage rack merchandiser with (5) shelves)
Lighting:
Additional incandescent vapor proof lights with globe (shipped loose)
4′ and 8′ double bulb flourescent light fixtures with shield & low temp ballast (less bulbs)
Refrigeration:
Custom applications
Temperature alarms
Refrigerant leak detectors for local codes
For additional details on all our Walk-in products Call 800-430-44668.