Floral Coolers
Designer Series IV
Excellent for bulk storage, party & banquet work and items awaiting delivery. Standard and custom sizes available for indoor and outdoor use. Walk-ins can be adapted to a variety of locations; e.g. basement, outdoors on a cement slab/wooden deck or inside your heated/unheated garage.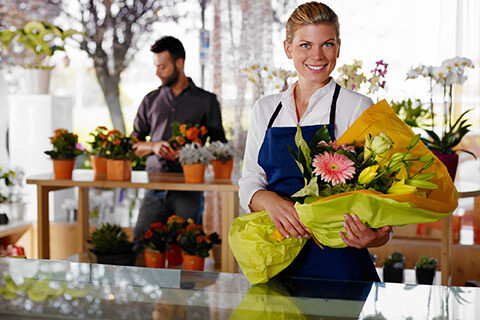 Standard Construction Features
Cabinet:
PPS Performance Panel System
4" thick insulation; exceeds EISA energy standards
8' standard height; shorter / taller sizes available
Silver metal finish in/out
35½ W x 78" H UL approved entrance door with magnetic gasket
Interior light prewired to exterior switch, exterior thermometer
Easy cam-lock wall panel fasteners
Floral Refrigeration System
"Surround Air" extends freshness by gently bathing flowers with generous humidity and uniform air temperature. Physical size (sq. inches of coil surface) of American Walk in Coolers evaporator coils are up to 117% larger than competition. As cold air exists the coil, American Walk in Coolers' "face velocity" (FPM) is up to 62% lower than competition.
Each system includes: Condensing unit, evaporator coil and required refrigeration controls