Truth About Insulation
ORLANDO, Fla. — January 12, 2011 — Dow Building Solutions has announced that its next-generation STYROFOAM ™ Brand Extruded Polysyrene (XPS) Foam Insulation products of 1.5 inches this or greater now have an unprecedented 50-year thermal limited warranty.
"The extraordinary properties of our proprietary, next-generation STYROFOAM XPS Insulation formulation enale us to maintain prior physical attributes while increasing long-term, sustainable R-value retention," said Dale Winger, residential marketing manager, Dow Building Solutions. "The 50-year thermal limited warranty is a strong message to builders and homeowners that we stand behind a product designed to maintain high insulation performance throughout the life of the structure. This is particularly important as changes in consumer expectations and government policy raise the performance requirements, especially in below grade applicatiions. Dow Building Solutions is proud to provide a broad portfolio of products to help builders meet and exceed the new demands of the marketplace and homewoners attain the next level of indoor comfort and energy savings."
After more than 60 years of proven performance in the field, Dow's next-generation STYROFOAM XPS Brand Insulation is produced without formaldehyde, and the new foaming agents contain no volatile organic compounds (VOC), HCFCs, CFCs, and have an ozone depletion potential (ODP) of zero. The new formulation has passed fire, industry-standard physical property, and application testing for both above-grade and below-grade applpications. Building code qualifications are complete, and a U.S. ICC Evalutation Service Report ICC-ESR 2142 has been received.
The warranty stipulates that STYROFOAM XPS Brand Insulation products of 1.5 inches thick or greater manufactured after November 1, 2010 will retain 90 percent of its R-value over a 50-year period from the date of manufacture. In addition, STYROFOAM ™ Brand Extruded Poylstyrene (XPS) Foam Insulation products of one to 1.5 inches thick now have a 30-year thermal limited warranty, which is double the previous 15-year warranty.
For more information about STYROFOAM XPS Insulation products and information about warranty terms and conditions, please visit www.dowbuildingsolutions.com.
About Dow Building Solutions
Dow Building Solutions has a 60+ year legacy of providing energy saving solutions to the global commercial and residential construction industry, which began with the launch of its flagship STYROFOAM ™ Brand Extruded Polystyrene (XPS) Foam Insulation, one of the most recognized brands of insulation in the world. A market-facing business unit of The Dow Chemical Company, Dow Building Solutions offers exceptional building science expertise to help builders, designers, architects, and home/building owners reduce energy costs and protect against wind, rain, and moisture, while contributing to the reduction of greenhouse gas emissions. More information about Dow Building Solutions can be found at www.dowbuildingsolutions.com.
About Dow
Dow combines the power of science and technology with the "Human Element" to passionately innovate what is essential to human progress. The Company connects chemistry and innovation with the principles of sustainability to help address many of the world's most challenging problems such as renewable energy generation and conservation, and increasing agriculutral productivity. Dow's diversified industry-leading portfolio of specialty chemical, advanced materials, agrosciences, and plastics businesses delivers a broad range of technology-based products and solutions to customers in approximately 160 countries and in high growth sectors such as electronics, energy, coatings, and agriculture. In 2009, Dow had annual sales of $45 billion and employed approximately 52,000 people worldwide. The Company's more than 5,000 products are manufactured at 214 sites in 37 countries across the globe. References to "Dow" or the "Company" mean the Dow Chemical Company and its consolidated subsidiaries unless otherwise expressly noted. More information about Dow can be found at www.dow.com.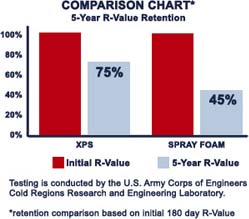 Testing by Army Corps of Engineers

Adobe Reader/Acrobat is required
A Matter of Insulation: Acquisition vs. Lifetime Savings
Your cold storage equipment may be one of the most important choices you make. A significant amount of costs are associated with your walk-in. Before you purchase, make sure you consider the entire lifecycle of the walk-in instead of just the acquisition price.
The two main elements that effect energy and cost savings while running a walk-in are the refrigeration and insulation. To get the optimal results from your refrigeration it must be sized correctly taking in consideration the size of box, if it is a cooler or freezer, and what will be stored inside. (There are many other factors that are considered when sizing refrigeration.) Insulation is the key to energy savings because it is responsible for holding the cool temperature in the box so the refrigeration does not have to work overtime.
Insulation quality is measured by R-Value; the resistance to heat flow through an object. Since EISA was implemented January 1, 2009, all walk-in manufactures are required to have an R-Value of R-26 for coolers and R-32 for freezers. Now that all manufacturers follow the same requirements, the performance of the insulation is what differentiates the walk-in.
The two common types of insulation used are polyurethane and extruded polystyrene. Each type of insulation brings with it strengths and weaknesses that must be evaluated for each individual application.
Insulation
Strength
Weakness
Extruded Polystyrene
Starts with a high R-Value.
Small cell structure.
Resists moisture absorption.
Closed cell structure.
Out gases low. Over time, R-Value decreases minimally.
Polyurethane
Starts with a high R-Value.
Closed cell structure.
Out gases high. Over time, R-Value decreases steadily. Is susceptible to moisture infiltration.
American Walk in Coolers uses both insulations. Through experience and research, American Walk in Coolers believes extruded polystyrene is the best insulation for the walls, ceiling, and floors of coolers and freezers. Polyurethane is better to insulate the doors of their walk-ins. According to a study performed by the U.S. Army Corps of Engineers, they found that over a five year period (extruded polystyrene retains 75% of its R-Value) while (polyurethane retains 45%.) This is one reason why American Walk in Coolers believes extruded polystyrene provides the most value and the best option for walk-in insulation.
The XPS (Extruded Polystyrene Insulation) used in American Walk in Coolers and Freezers is a closed cell structure with a high resistance to water. Composed of hydrophobic polystyrene polymers, XPS insulation exceeds R-Values required by the new Energy Independence and Security Act of 2007 and the recent changes to the federal regulations, which were enacted in January of 2009.
It is important, both economically and environmentally, that you choose a manufacturer that provides the best insulating products available. As you compare, you will find the XPS insulation, both initially and over time, to be the best choice for all your walk-in needs.
New Industry Standards
The new energy act requiring all coolers to meet or exceed an R-Value of 26 has eliminated legal use of insulations that cannot obtain the required minimum. The extruded polystyrene (XPS) insulation used in American Walk in Coolers' walk-ins has an R-Value of 32, exceeding the new requirements and providing improved long-term cooling efficiency.
Closed Cell: What does it mean to you?
Insulation that absorbs water loses R-Value. A foam plastic insulation that has a closed cell structure absorbs a minimum amount of water thus retaining R-Value.
Examined under a microscope, XPS can be seen to have very well defined, uniform cells with continuous walls. That combination of characteristics result in a very low rate of water absorption compared to other types of foam plastic insulation.