Russel Refrigeration Equipment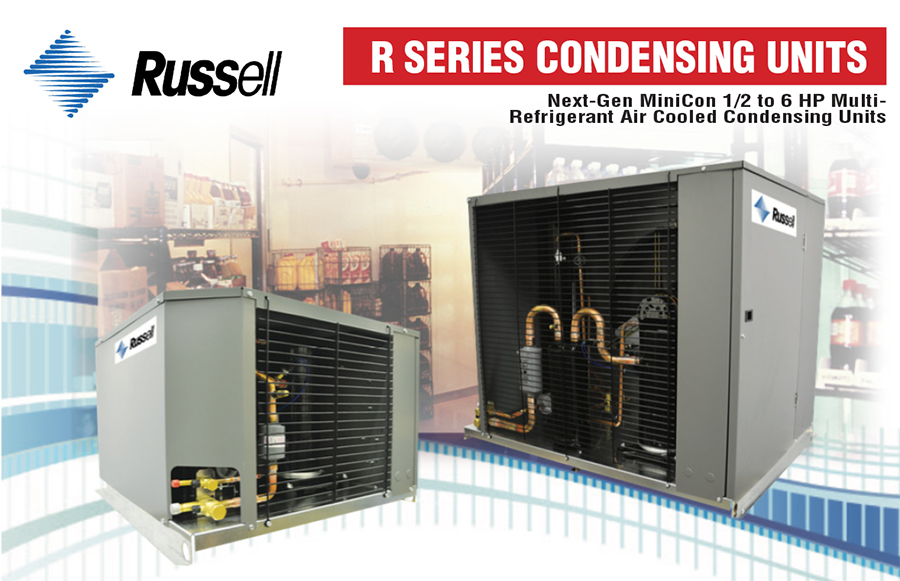 Standard Features
RBH/RBO Models
• Low-cost Hermetic or quiet and efficient Scroll compressor
• All-weather galvanized steel painted housing
• Generously sized high efficiency condenser, enhanced copper tubes/aluminum fins
• Integral Liquid Subcooling Circuit provides subcooled liquid to the expansion device
• Base mounted shut-off valves placed external to cabinet for easy access
• Liquid line kit with filter/drier and sight glass with moisture indicator
• Suction line piping
• Larger electrical panel with hinged/removable door
• Color coded point-to-point wiring
• Refrigerant receiver with isolation valve and pressure relief plug
• Crankcase heater
• PSC condenser fan motor(s) with EC motor option
• Encapsulated high pressure (auto reset) and low pressure (auto reset) controls (adjustable low pressure control is standard on low temperature models)
• Electronic defrost timer with defrost contactor/relay on low temperature models (2 evaps. maximum)
• Electronic air defrost timer (Medium temperature models only)
• UL and cUL listed for indoor or outdoor use
RFH/RFO models also include flooded head pressure control as
standard feature
Options
• Suction Accumulator
• Oil separator (may not be available with mounted accumulator)
• Thru-the-door fused disconnect for cabinet sizes FM2 through FM4
• External fused or non-fused disconnect - loose or mounted
• Heated and insulated receiver
• Oversized receiver
• Adjustable high/low pressure control
• Hose option for adjustable pressure control
• EC condenser motor
• Pump down toggle switch
• Liquid line solenoid (loose or mounted)
• Phase loss monitor
• Hail / Snow Guard - loose or mounted
• Paragon mechanical timer in lieu of electronic timer
• Timer shipped loose in enclosure
• CPC timer
• 316 Stainless steel housing
• 50 Hz timer and/or defrost kit

Features & Options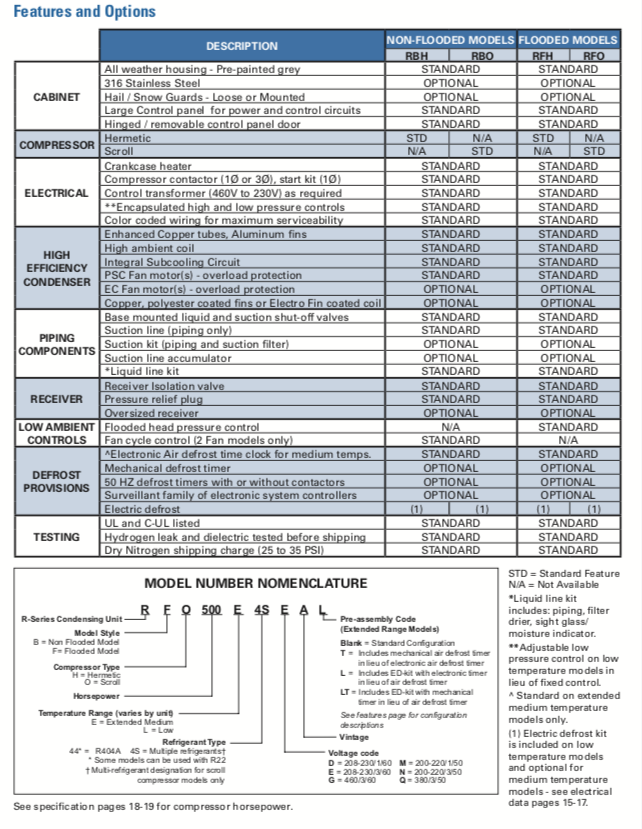 ---
Physical Dimensions - All Models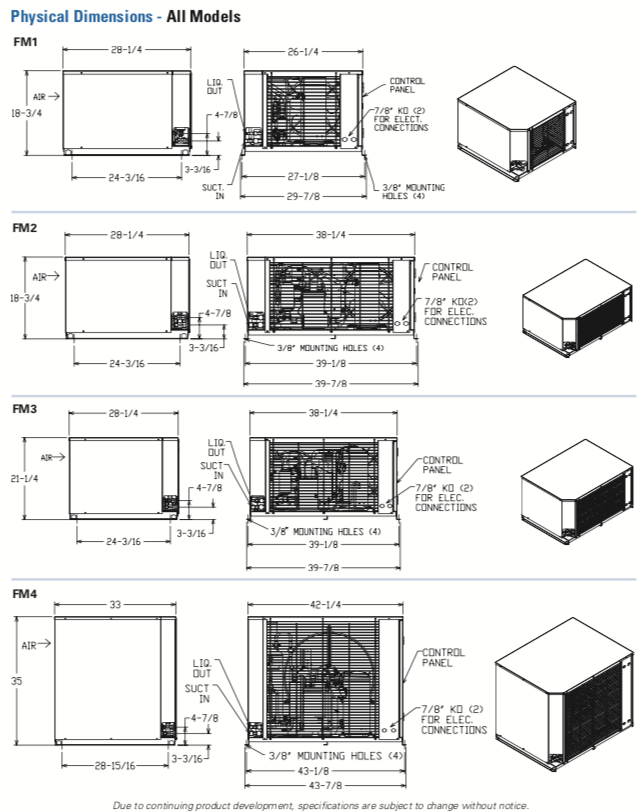 ---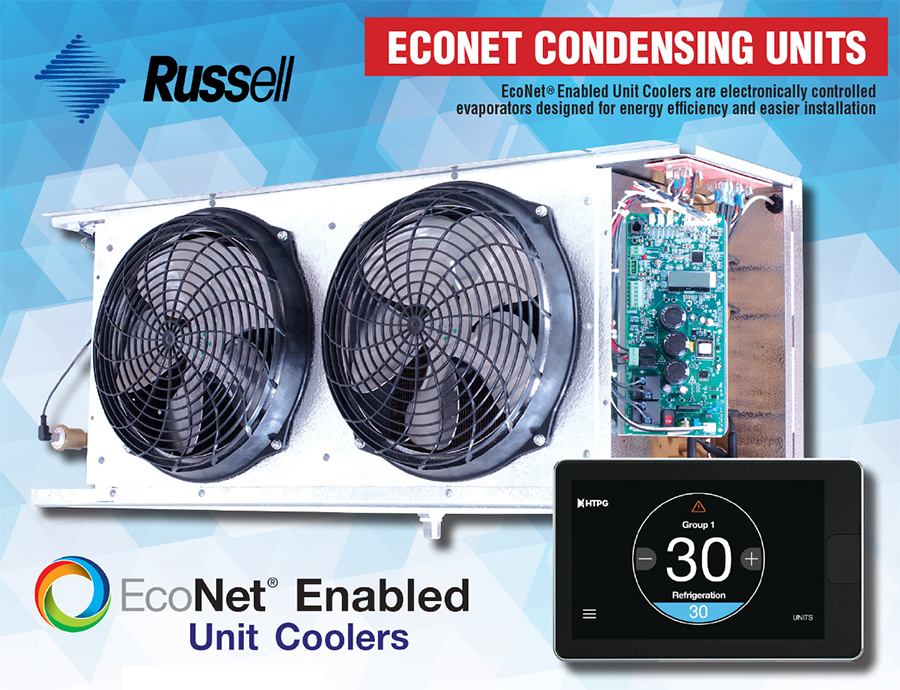 Standard Features
Efficient & Intelligent Control Unit Coolers
• Developed in conjunction with Rheem Manufacturing specifically for commercial refrigeration applications, it builds on the success, reliability and efficiency of Rheem's EcoNet technology.
• Saves energy by reducing fan speed to 50% during off cycle
• Maximizes energy efficiency with less compressor runtime
• Eliminates icing issues and unnecessary defrosts
• Improves product quality by reducing temperature fluctuations
• Can be used with a condensing unit with single and multiple evaporators as a group
• Available factory-installed on next-gen all-temp low profile unit coolers for quick shipment directly from finished goods warehouses with more models coming soon
• Optional EcoNet Command Center
• Intuitive graphical touchscreen interface controls up to 32 devices (including the Command Center) through one display
• Provides continuous communication between system components
• Remote mount display allows for EcoNet-enabled unit coolers to be programmed, monitored, and troubleshot outside of the space being cooled
Contact your local Russell sales representative or wholesaler for
more information
Gold-winning Rheem Mfg. Co. spent three years researching and developing its next-generation EcoNet® Smart Thermostat, which builds off the company's extensive work in sensor technology that began in 2012. "Unique to the category, it is the only thermostat smart enough to optimize the performance of a home's HVAC and water heating appliances," said Carson Burrus, controls product manager at Rheem.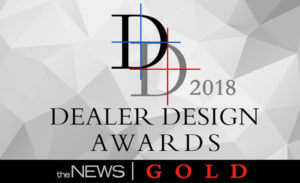 SMART TEMPERATURE CONTROL FOR WALK-IN COOLERS & FREEZERS
---

Features
The Russell All-Temps are the original low profile unit coolers that established the industry standard as being the all-purpose design for walk-in coolers, freezers and other applications. The units feature an air drawthrough design, easy access for serviceability, and are available in air, electric and hot gas defrost models.
SIZES: There are a wide array of sizes available with capacities ranging from 3,600 to 39,000 BTUH at a 10° TD spanning from 740 to 4,980 cfm. One through six fan models are available.
HOUSING: The embossed Aluminum casing is lightweight yet durable. Each fan section is baffled to prevent short cycling of the air. The unit is designed to mount flush to the ceiling and meets all NSF requirements. The top pan is slotted for simple installation. Drain fittings are installed in the bottom of the drain pan for easy field connection and the drain fitting can be quickly replaced without replacing the entire drain pan. The end panels can now be slid out from the front of the unit for easy serviceability from the front or end of the unit.
COIL: Copper hairpins are staggered and mechanically expanded into corrugated Aluminum fins and tube sheets to achieve maximum heat transfer. Die formed fin collars provide even fin spacing and are available in 4, 6 and 8 fins per inch. Sweat connections are standard on all models.
MOTORS: High efficiency single-speed and dual-speed Electronically Commutated (EC) motors are available in 115V and 208/230V. The dual-speed EC motors are compliant with California Title 24 regulations. Single speed PSC motors are available in 115V, 208/230V and 460V. All motors include thermal overload protection.
Configurations
Units are available as Configurable (no mounted accessories) or Pre-assembled with the most requested options installed for your convenience.
PRE-ASSEMBLY CODE1:
• Blank = Configurable
• T = Factory mounted TXV
• L = Factory mounted TXV, Liq. Line Solenoid (LLS) and Mechanical T-Stat
• M = Master Configuration with mounted TXV, T-Stat, LLS and copper Tee
FANS: Heavy duty 12" Aluminum fans are balanced to provide vibration- free operation. Our low throw black plastic fan guards provide an optimal air pattern. The optional epoxy resin high throw fan guard moves air up to 25 feet.
OPTIONAL FEATURES
• Coated Aluminum fins (Russproof, ElectroFin2, or Heresite2) or Copper fins
• Coated housing (same options as above)
• Epoxy resin high throw guards for up to 25 ft.
• Adjustable termination/ fan delay control*
• Insulated drain pan*
ELECTRICAL: Available in 115V, 208/230V and 460V. All components are factory wired to convenient screw-type terminal strips. A large compartment is supplied internal to the unit for all electrical components and is easily accessible by opening the slide out end panel. All models are UL and cUL listed and are available in 60 or 50 Hz.
AIR DEFROST: Air Defrost models (prefix "AA") are designed for use in coolers of 35°F and warmer. Complete air defrost systems for off-cycle or timed air defrost are available.
ELECTRIC DEFROST: Electric Defrost models (prefix "AE") are designed for use in coolers and freezers between 34°F to -20°F. Internal coil heaters
provide rapid and efficient defrost. A lower heater is installed close to the drain pan for fast, reliable drainage. A defrost termination fan delay thermostat (DTFD) terminates the defrost cycle when the temperature is satisfied. The fan delay allows the warm coil to cool after a defrost cycle prior to the fans turning on. A heater safety thermostat is installed to prevent heaters from overheating above 75°F. Complete electric defrost refrigeration systems are available from Russell.
HOT GAS DEFROST: There are two types of Hot Gas Defrost models available: Hot Gas 3 Pipe (prefix "AH") and Hot Gas Reverse Cycle 2 Pipe (prefix "AG"). Hot Gas Defrost models are designed for use in coolers and freezers between 30°F to -20°F. All models include a fixed DTFD factory wired and a hot gas drain pan circuit to defrost the drain pan. On all Hot Gas models, the drain fitting is located on the left-hand rear of the unit when facing the fan guards. Complete Hot gas defrost refrigeration systems are available from Russell.
* These options require the units to be built as Revision B models.
1. Codes T, L and M are intended for units in finished goods inventory only. Call out separate options for units built with normal lead times.
2. ElectroFin and Heresite coatings are not NSF approved. NSF approval label will be removed from unit if ordered with these coatings.
---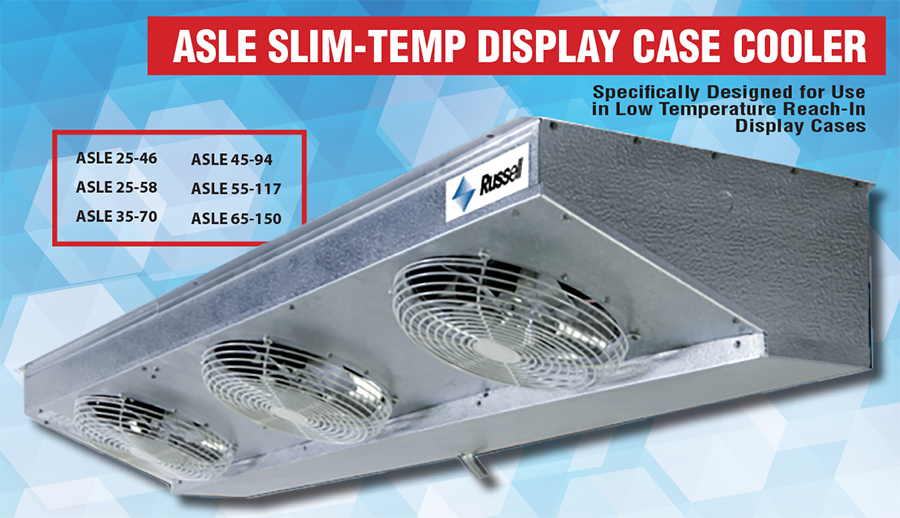 Features
• All models require externally equalized Thermostatic Expansion valves.
• ASLE capacity ratings at -10°F evaporator temperature.
• All Aluminum low silhouette housing.
• Fan motors are totally enclosed, permanently lubricated and thermally protected.
• Electrical connection made at internal terminal blocks located at end opposite refrigerant connections.
• UL & cUL listed. NSF approved.