REACH-IN BLAST CHILLER PRODUCT DESCRIPTION:
This unit fits perfectly into a professional kitchen workflow, making it possible to practice HACCP guidelines concerning the cook/chill concept. The unique ambient chill method and Indirect air circulation help to assure better food quality and safety.
Manufactured with the environment in mind, it includes advanced technology and important features to protect your long-term investment. Along with colder product temperatures, it offers lower utility costs, improved food safety, and excellent value in today's foodservice marketplace.
STANDARD FEATURES
• Ambient chill method
• Indirect air circulation to improve food quality
• HACCP compliant; self-contained refrigerated system
• Electronic touch screen control; user friendly and programmable for up to 99 recipes
• USB port; front-mounted for easy access to download data, such as HACCP, or upload recipes
• Automatic hot gas defrost
• Rounded interior corners for simple cleaning
• Single point product probe
• Slide out refrigeration system for efficient service access
• Stainless steel rack system for pans or shelves
• Snap-in magnetic gasket for straightforward changes or cleaning
• Self-closing door, right-hand hinged
• Casters for effortless movement, front casters can be swivel, fixed or locked
• 304 Stainless steel interior and exterior front, sides, and top.
• Refrigerant: R404
• Environmentally friendly HFO insulation
WARRANTY
• Three-year warranty on parts and labor
• Additional warranty for years 3-5 on compressor (parts only)
OPTIONAL ACCESSORIES
• Plastic coated shelves
• UV sanitizer
• Heated multi-point probe
• Three core probe kit
• Left-hand door
• Door bolt lock
AWIC 18.0 Reach in Blast Chiller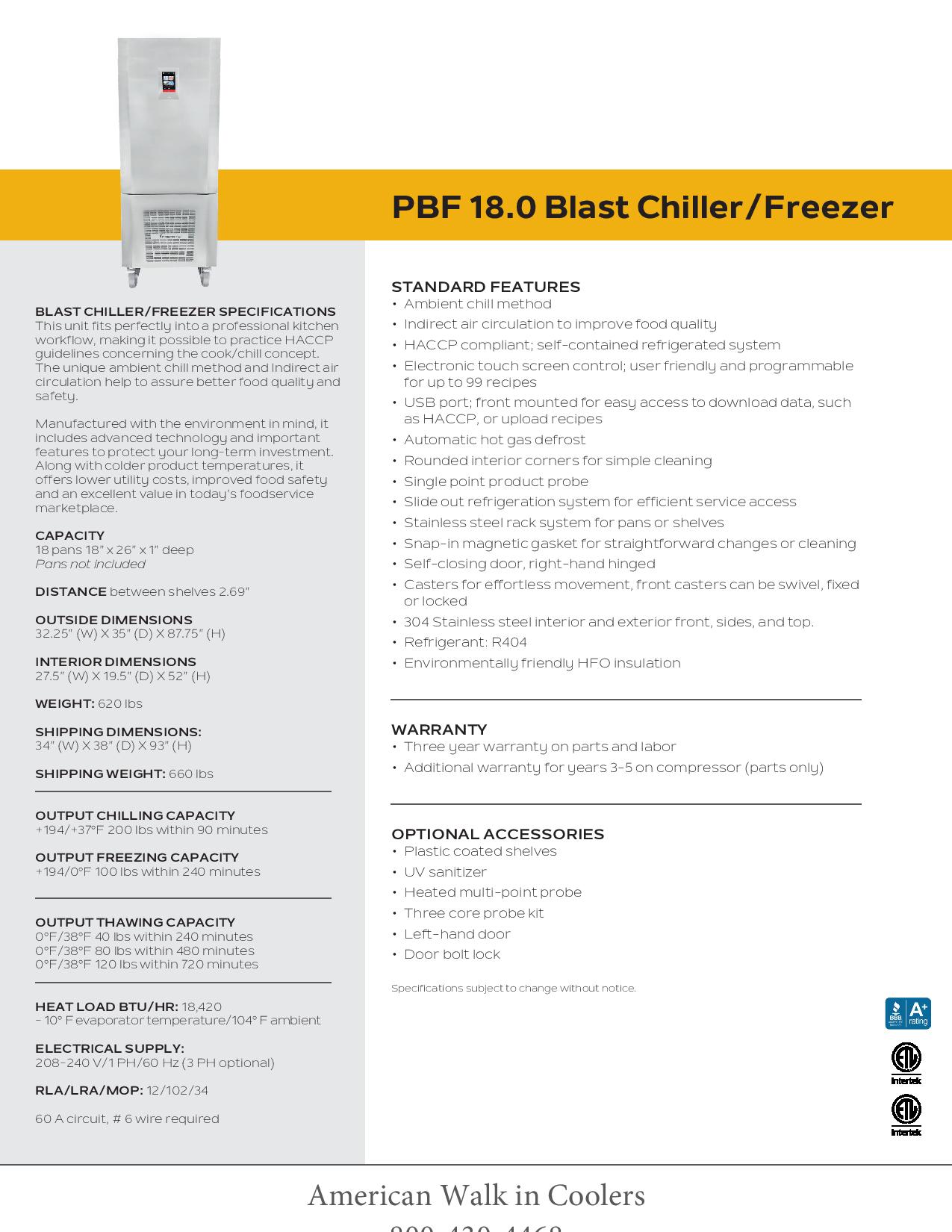 AWIC 12.0 Reach in Blast Chiller